Every hour of every day, someone in Nebraska is faced with a challenge and needs assistance. The 211 Helpline, housed at United Way of the Midlands (UWM), connects people looking for assistance to local programs that can help. And this year, in addition to celebrating national "211 Day" on February 11, 211 in Nebraska is celebrating 20 years – even though UWM has been taking calls to help those in need for over 40 years. The first 20+ years of fielding calls used an 800-number known as "First Call for Help." Then in 2000, 211 was approved nationwide and UWM was awarded the number for Nebraska on February 20, 2002.
"One of the coolest things about this 20-year anniversary is that we have a couple of 211 staff members who have been with us since before that date," said Dr. Pam Schwalb, UWM's chief operating officer.
The 211 Helpline is an essential service offered to the entire state of Nebraska – all 93 counties – as well as SW Iowa. It provides free information and referral services to people who may not know how to find or access local programs to address their needs. It's a safety net of health and human resources when it seems other avenues have been exhausted. After disasters occur, such as floods and tornadoes, and during the COVID-19 pandemic, 211 also plays an integral role in keeping community members updated and helping those impacted.
"211 was an instrumental partner to MACCH (Metro Area Continuum of Care for the Homeless) in developing the Emergency Rental Assistance Program (ERAP)," said Stacy Warner, former system director, MACCH. "This helped ensure that community members had access to financial assistance to prevent eviction and increase housing stability."
In 2021 alone, the Helpline recorded nearly 250,000 contacts – a 40% increase from 2020 and 168% higher than 2019 – with callers' top 5 needs being:
Housing (54%)
Utility Assistance (21%)
Employment (5%)
Healthcare (4%)
Food (3%)
"As contacts to 211 continue to increase, we're implementing many measures to address the volume," said Eddie Clark, senior director – 211. "This includes providing our Community Resource Specialists with tools to handle requests quicker while maintaining the quality of service."
With the ongoing increase in contacts, UWM is grateful to Senator Mike McDonnell and the entire Nebraska State Legislature, as well as other private and public funding, for their support of the 211 Helpline. Without their continued support, our work wouldn't otherwise be possible.
Last year, a new 211 website and app were launched to provide multiple points of access for individuals in every county in the state. This allows those seeking help to communicate using their preferred method to receive assistance easily, quickly and confidentially. Via ne211.org, Nebraskans can access an online database of local health and human service programs, community services, disaster services, governmental programs and more. Iowans can find assistance via the existing 211iowa.org site.
Individuals can also access similar information via the 211 Nebraska/SW Iowa app, which is available on both iOS and Android devices – or by texting their ZIP code to 898211 or dialing 2-1-1 to communicate directly with a trained 211 Community Resource Specialist. Assistance is available 24/7 in over 240 languages using the tele-interpreter service and bilingual staff.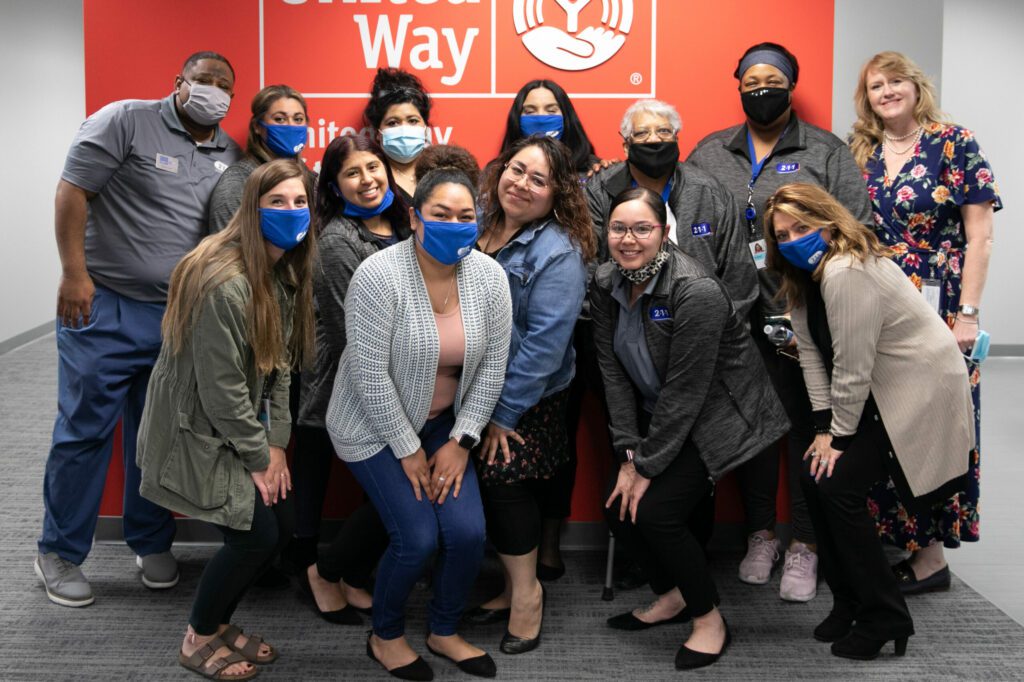 "The 211 team's commitment to excellent customer service is exemplified by their strong community partnerships and flexibility in meeting the needs of households seeking assistance," said Lisa Vukov, director of programs and compliance for MACCH. "They are an integral part of the Omaha ERAP through the management of our call center. We couldn't have chosen a better partner in this unique and evolving program."
In addition to being connected to more than 13,000 programs and services across Nebraska and Iowa, the 211 Helpline has the support of the 211 Committee on the UWM Board. This group uses their knowledge and experience to serve as advocates and advisors for 211 and the work they do. Members of the Committee include:
Cory Shaw, Chair – EVP and COO, Nebraska Medicine
Jodi Graves – Executive Director, United Way of S. Central Nebraska
Scott Hartman – AVP Training and Evaluation, Boystown
Carol Henrichs – Division VP, Patient Care Services, CHI Health
Clark Ponthier – SVP, Supply Chain, Union Pacific Railroad
Lori Snyder – Chief Information Officer, DHHS
Stacy Warner – Former System Director, Metro Area Continuum of Care for the Homeless
"211 plays a critical role linking individuals, families, social service organizations, and health care providers when an acute need arises," said Shaw. "United Way of the Midlands is proud to have been entrusted with managing and delivering this important resource to the communities we serve."
And this year, as part of its 211 Day celebration, UWM and 211 are raising money to support our work with Help Me Grow Nebraska (HMGN). The HMGN program seeks to nurture every child – particularly those aged 0-8 – and find a path to success by promoting early identification of development, behavioral or education concerns, and then assisting parents and caregivers in finding the resources available to them.

"We are grateful to partner with 211 to help serve as the main call number for Help Me Grow Nebraska, an important initiative that helps identify vulnerable children and connects them with the services in the community they need," said Holly Dingman, Director, Community Health & Advocacy, Children's Hospital & Medical Center. "Children's Hospital & Medical Center serves as the backbone of Help Me Grow and partners with several organizations to implement the four core components: child health care provider outreach, family and community outreach, ongoing data collection and analysis and a centralized access point."
If you'd like to join UWM and 211 in supporting our partnership with Help Me Grow Nebraska and the amazing work they do in our community, click here.