In Case You Missed It: Annual Meeting
Thank you to those who joined us at our Annual Meeting to celebrate incredible work and a major milestone! Each year, we're more and more convinced that our community is a place like no other.
In the midst of one of the most difficult times in recent history, our community raised its hands and stepped up in support of the Omaha-Council Bluffs metro. Because of you – and with the support of our Campaign Chairs Lance and Julie Fritz and the Union Pacific team – we raised more than $36 million this past year.
During the meeting, we were proud to present our fifth annual Campaign Recognition Awards: "Volunteer Organization of the Year," "New Business Partner of the Year" and "Corporate Partners of the Year" in four categories. UWM created the Campaign Recognition Awards to honor the organizations providing outstanding support for our community through UWM campaign participation.
A special thank you to our generous sponsors who made the event possible —particularly our title sponsors Union Pacific and Scoular – along with the additional sponsors who supported this amazing event!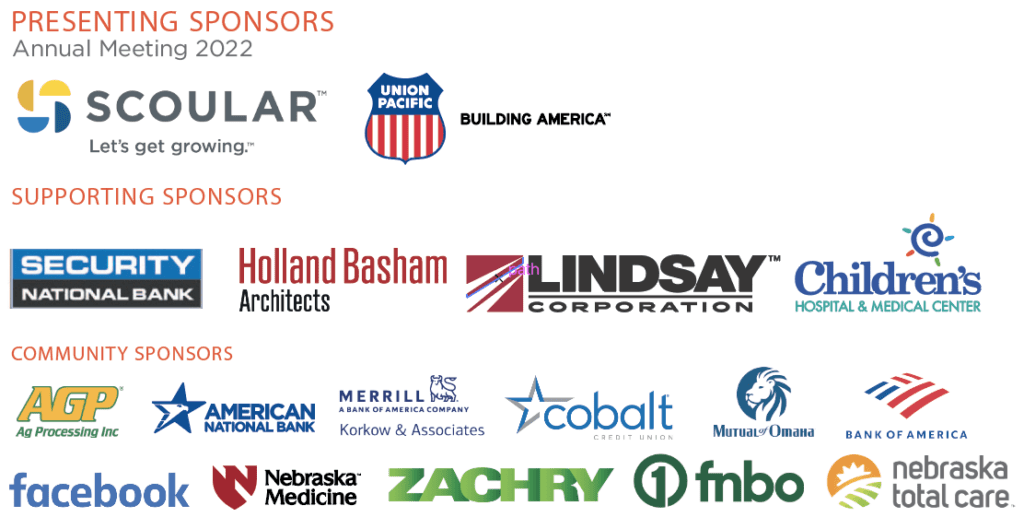 View the Annual Report
Please explore the UWM Annual Report to see the impact your investments have made this year. It also highlights our 2022 Citizens of the Year, Julie and Lance Fritz, and Campaign Recognition Award winners, along with a timeline of what we have accomplished together in the last 100 years.
Thank you for your ongoing support for our community and UWM! Your dedication and commitment truly showcases your caring spirit.