Every hour of every day, someone in our state is faced with a challenge, and Nebraska 211 is ready to listen and lend a helping hand. Nebraska 211 connects neighbors in need with the resources to help – with trained specialists providing referrals for food pantries, housing and utility assistance, employment support, child care, mental health services, and more. No matter the situation, Nebraska 211 is available to help while also making strides to unite and strengthen communities across Nebraska and Iowa.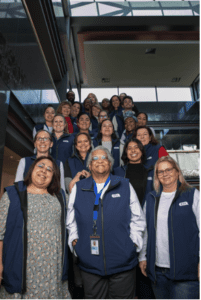 Supported by United Way of the Midlands, the 211 Helpline is an essential service offered to the entire state of Nebraska – all 93 counties – as well as Western Iowa. It provides free information and referral services to people who may not know how to find or access local programs to address their needs.
In 2022 alone, the 211 Helpline recorded over 364,000 contacts – a nearly 40% increase from 2021– with callers' top 5 needs being:
Housing
Utility Assistance
Employment
Healthcare
Food
"Our team takes great pride in serving our community. Now more than ever, our community relies on the 211 Helpline to overcome obstacles when there is nowhere else to turn," said Steve Rippe, Senior Director, 211. "Our specialists are available to lend a hand 24/7, 365 days a year, and our team continues to connect our community members with the resources they need to thrive."
Easy to Connect
By having partnerships with more than 13,000 programs and services across Nebraska and Iowa, the 211 Helpline provides multiple points of access for those looking to receive assistance easily and confidentially. Via ne211.org, Nebraskans can access an online database of local health and human service programs, community services, disaster services, governmental programs and more. Iowans can find assistance via the existing 211iowa.org site. Individuals can also access similar information via the 211 Nebraska/SW Iowa app, which is available for download on both iOS and Android devices.
In addition to going online or using the app, individuals can also text 898211 or call 2-1-1 to communicate directly with a trained 211 Community Resource Specialist. Assistance is available 24/7 in more than 240 languages using the tele-interpreter service and bilingual staff.  
Who We Serve
Bill is on an oxygen machine. His wife, Cindy, called 211 after their utility services had been shut off. She stated that Bill only had one tank of oxygen left and because they're on a fixed income, they weren't able to afford even the past due portion of their bill to get their utility services restored. She said they had fallen behind on their bills due to some unexpected medical expenses. They had applied for other programs, but unfortunately, their applications were still pending. After the 211 Community Resource Specialist was able to call and get their services restored within 30 minutes, Cindy cried tears of joy as she thanked them for their help.
Tina is a senior citizen and disabled and was self-referred to 211 via the Unite Us website. She had requested assistance with her OPPD bill, as she had fallen behind due to reduced hours at work. As an in-network partner, UWM was able to assist with Tina's bill through Omaha World-Herald Goodfellows funds to pay the full balance she owed to OPPD. So, Tina's account was caught up and she didn't lose access to her utilities.
These success stories wouldn't be possible without our incredible team of 211 Community Resource Specialists, our connections with community programs and agencies in Nebraska and Iowa, and our official 211 partners: Children's Hospital & Medical Center, CyncHealth, Help Me Grow Nebraska, Munroe-Meyer Institute (University of Nebraska Medical Center), Unite Us, and the University of Nebraska Center on Children, Families and the Law.