Wish to help those affected by the flooding in Nebraska and Iowa? Here are some options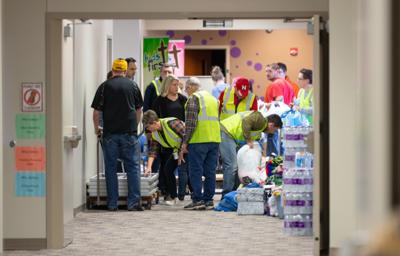 The Salvation Army set up a donation center Saturday at the now-closed Canfield's store near 84th Street and West Center Road in Omaha.
The center will be open today from noon to 7 p.m. Donations of flood cleanup items and supplies including shovels, masks, disinfectant, tarps, bottled water and sports drinks are being accepted.
The Salvation Army will begin to distribute cleanup kits and bottled water to people in flood-afflicted areas, said Susan Eustice, director of public relations for the Army's Western Division.
The local Salvation Army also partnered with NRG Media on a water drive Saturday at Nebraska Furniture Mart and the area Fresh Thyme stores.
Eustice said the agency also has set up a special donation tab at salarmyomaha.org.
The agency also is calling for additional volunteers for flood relief efforts. Volunteers can sign up at registertoring.com or 402-898-6050.
American Red Cross
As of midday Saturday, the American Red Cross was operating or planning to operate 15 shelters in Nebraska and western Iowa for people displaced by the devastating floods. That list included locations at Elkhorn Middle School in Omaha and sites in Council Bluffs, Missouri Valley, Valley, Plattsmouth, Fremont and Bellevue.
All told, the Red Cross sheltered 880 people overnight Friday, said Josh Murray, the agency's regional communications and marketing manager for Nebraska and southwest Iowa.
Murray said additional shelters could open later.
Area residents can donate at redcross.org/local/nebraska. Monetary donations are better than material goods, which are hard to distribute, he said.
Evacuees are advised to bring essentials, including prescriptions and emergency medications; foods for unusual dietary requirements; identification showing residency in an affected area and important personal documents; extra clothing, pillows, blankets, hygiene supplies and comfort items; supplies needed for infants and children, such as diapers, formula and toys; and needed items for the elderly or disabled.
United Way
United Way of the Midlands has established the Nebraska & Iowa Flood Relief Fund to help people who lost homes or suffered other setbacks in the flooding.
One hundred percent of every donation will be given to nonprofit programs that provide shelter, food and other services in the Omaha area. Donors also can direct gifts to another flood-impacted community.
Go to unitedwaymidlands.org/floodrelief or text FLOODRELIEF to 41444. United Way also is helping flood victims in Nebraska and southwest Iowa through its 211 Helpline.